=> All the articles <=

Watts at Le Tour de Romandie 2015
2015-05-10, 16:04 - Frédéric Portoleau
In addition to this article, you can find all the data about the Champex-Lac climb in this dedicated page. Thibaut Pinot's data (power 78kg standard) are calculated with a margin of error of +/- 8 Watts (case without wind or drafting). For more information about mathematical incertitude, please read the study about mathematical incertitude.
Thibaut Pinot
won last week the mountain stage of
Le Tour de Romandie 2015
. One of his biggest win, with his win
at Porrentruy during Le Tour de France 2012
, because he outdistanced some top cyclists,
Froome
,
Quintana
and
Nibali
.
Pinot attacked 5 km before the summit of Champex-Lac, and won the stage while the Russian
Zakarin
ended 9s ahead, and the
Bardet
/Quintana/Froome group ended 17s after.
Pinot produced 419 watts 78kg-standard during more than 30 minutes (around 6,05 w/kg). The Froome/Quintana group is between 412 and 415 watts 78kg-standard. Nibali, far from his best level in le Tour de France 2014 or Giro 2013 produced 403 watts 78kg-standard.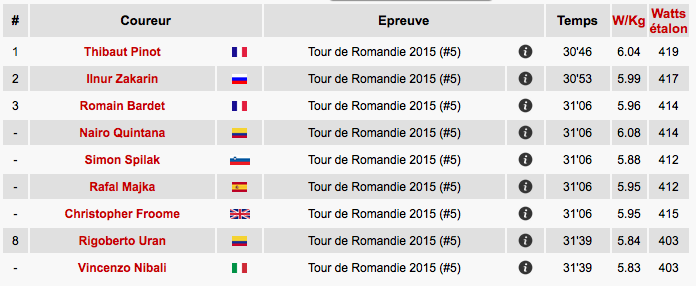 This performance is close to the one at
Terminillo
for Pinot : 10 watts more in Romandie but the effort is 10 minutes shorter.
The weather conditions were not perfect (moist and cool) but much better than during
Tirreno Adriatico
. Before Champex-Lac, the cyclists climbed
le col de la petite Forclaz
(
Bahamontes
and
Anquetil
rode here during
le Tour de France 1963
).
The peloton with the best cyclists produced 405 watts 78kg-standard during this 18 minutes climb.
It's a strong effort few minutes before the last climb (few time for recovery).
Quintana and Froome are below their performances at Terminillo or at the
Vuelta a Andalucía.
. Last year at the Tour de Romandie, Froome produced 430 watts during 25 minutes (to Villard sur Ollon). Bardet finished far away from Froome and Contador at the Vuelta a Andalucía, but managed to follow them in Romandie. Froome even lost the time-trial, and finished 2nd after Zakarin.
Nibali is also far from his best, but it was the same last year. He was not really impressive before his training camp at San Pellegrino in June... Let's wait the next
Dauphiné
, with the stages to Bettex and Praloup, where we'll obtain more accurate informations about the shape of these riders before Le Tour de France !
Frédéric Portoleau